BranchTrack simulations can be used in various e-learning contexts. You can access your sim's delivery options by clicking on the three dots next to a sim in Your Simulations and clicking Deliver or the cloud icon.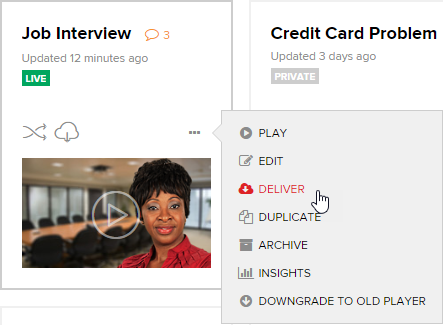 Delivery via link

Choose Share link in the delivery window and copy the link from the text box. Click the icon with two papers to instantly copy the link.
The link provides the learner with the current version of your sim from BranchTrack's servers. The sim in the link is instantly updated as soon as you've edited it.
You can use the Share link to send the sim to anyone you want so the can play it.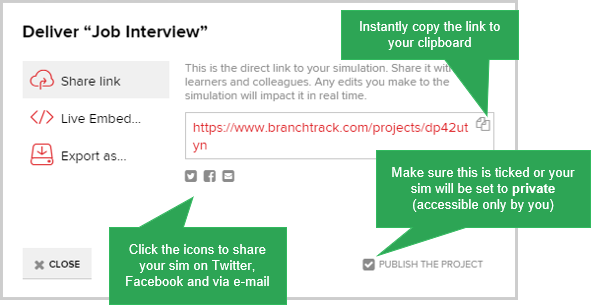 Live embed
You can also embed a scenario in an e-learning course built with almost any authoring tool, including popular tools such as eLearning Brothers Lectora, Articulate Storyline, and Adobe Captivate. Please refer to your authoring tool user's manual for information on embedding web content.
Choosing Live embed in BranchTrack will produce an iframe code that you can embed into a webpage, e-learning course or LMS, if they support embedding iframes. It's like embedding a YouTube video. BranchTrack's content is HTML-based.
Similarly to delivery via link, any edits to the sim will be delivered in real time.
Export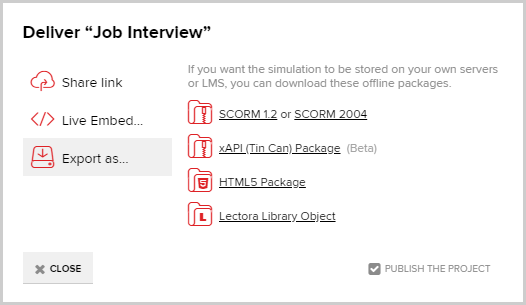 If you would like to have BranchTrack sims without using BranchTrack's servers and live editing, you can download several kinds of exported packages:
Download SCORM 1.2 or SCORM 2004 ZIP files for your LMS. BranchTrack will report completion and points.

Download xAPI for use with LMS and authoring tools that support xAPI. View what information BranchTrack can report in

Insights

. (Still in BETA)

Download a HTML5 package to use on your website, authoring tool (such as Captivate) or LMS.

You can also export a Lectora Library Object (.awo) for use in Lectora.
All these exported packages will remain the same on the platform you've uploaded them to. If you make any changes to the project, you will need to export it again.
Your sim may also be delivered as a heavily interactive, live BranchTrack Class. Read more about BranchTrack Classes here.