You can invite reviewers and SMEs to view, play your simulations and add their comments. A small comment icon appears if a scene has unresolved comments in:
Small scene view and scene content view on your sim canvas

Preview mode on your sim canvas

Next to the title of the sim in Your simulations
You can access the comments from all of these places.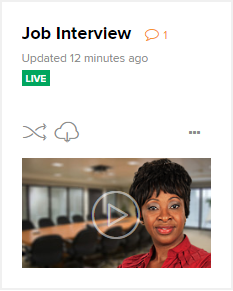 You can write comments to the sim yourself as well. Use them to reply to reviewers, make notes for yourself or comments for your colleagues (see Teams) with whom you are working on sims.

Inviting reviewers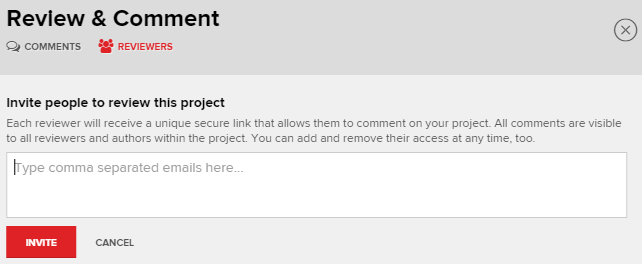 Click the large comments icon

on your sim canvas, select Reviewers and add a person's email address to invite them to review. You can invite as many people as you like. They will receive an email from BranchTrack with a unique URL for this specific simulation. You can grant and remove reviewer access at any time. The reviewers don't need to have a BranchTrack account nor a license in order to review your simulations.
How do reviewers see the sim?
The reviewers first receive an e-mail from BranchTrack.

When the reviewer clicks the link in their e-mail, they will be directed to a URL that contains the sim in small web player view. We recommend to use a computer, not a handheld device for convenience when reviewing.
The view is identical to small web player preview, except for an Add a comment button in the top right corner. The current scene number is visible to the reviewer. Clicking the button reveals input fields and existing comments. The reviewer can view a scene and immediately write their comments on it.
All comments are visible to all reviewers and authors who have access to reviewing or editing the project.
Comments cannot be edited or deleted by the reviewers, but they can be marked as resolved by logged-in authors in scene view or in the Review & Comment tab on the sim canvas.