Did you know your sim can have a voice? You can add sound files that will play in any scene in your sim. Voiceover can be added to both the sim character (main text) and the reply choices, creating a realistic conversation. Access voiceover options from your sim canvas by clicking the microphone icon. From there you can upload audio files in two ways:
1. Upload audio files separately for each scene by clicking the cloud button. Delete the file with the bin icon. Listen to the audio by clicking the play button. The play button marks scenes in the list that feature audio.
2. To upload multiple files at once, first check the Script/Insights to overview the whole simulation. Name your voiceover files identically to the scene and choice numbers (for example S01.mp3) where you want them to play. Once you have named your files, click on the Upload button or drag and drop your files. They will then immediately appear sorted according to scene numbers in the Scenes tab of Voiceover. At this point they have been added to the corresponding scenes and choices.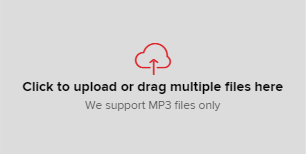 Only mp3 files are supported for voiceover.
When the learner opens a sim that features audio, they will first receive a prompt asking whether they want to hear or mute audio. If they choose to continue with audio, it will automatically play at the beginning of the scene. Clicking on the sound icon mutes or restarts the sound.