There are two important functions to Script view/Insights – viewing and editing your sim in text format and gathering data about how the learners have interacted with the sim.
Script view and Insights can be accessed from Your simulations and the sim canvas, by clicking the printer icon.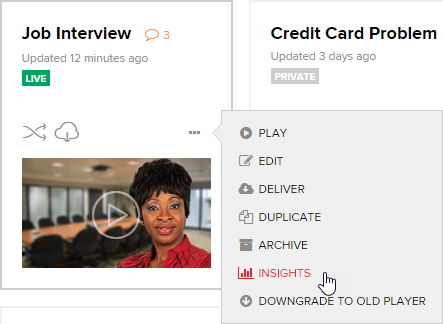 When looking at your sim's script, you will notice that scenes and choices are numbered. A scene and choice is automatically assigned an identifying number as soon as it's created. This means:
Scenes are numbered according to the sequence in which they were made. That means Scene 1 will always be the first scene, but it could easily link to Scene 50 which was created much later.
Choice numbers consist of the scene the choice is in and which choice it is in a list of all the choices in the sim.
Scene and choice numbers do not change.

You can not only view, but also edit your sim's text in Script view/Insights, which is useful for proofreading. Click on Edit mode in Insights and then the pencil icon to edit your sim texts. Don't forget to save!
Click to enlarge
Insights feature the statistics of your simulation:
average score,
average time spent on a scene,
average time spent on the whole simulation,
how many learners have completed the sim,
how many left it unfinished – dropped off,
how many times the learners made a particular choice.
When viewing your sim's script and its statistics, you can choose to sort the scenes and choices on the page in the following ways: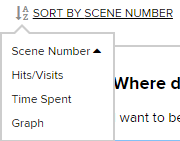 Scene number – highest or lowest scene number at the top. Remember, scenes are numbered according to when they were created (and the numbers cannot be changed), so this might not always be the best choice for proofreading.
Hits/visits – sort by most or least visited scenes.
Time spent – sort by longest or shortest time spent on a scene.
Graph – sort by how the scenes are connected, not scene numbers. If new scenes were added much later, they appear next to scenes they are linked to, not at the bottom with the other scenes with large scene numbers.
If you would like to print or export Insights, don't forget to sort them in the most suitable way for your needs first.
You can choose to filter the scenes and show only:
You can choose to display comments that are:
Comments are not displayed by default.
Learn more about Comments here